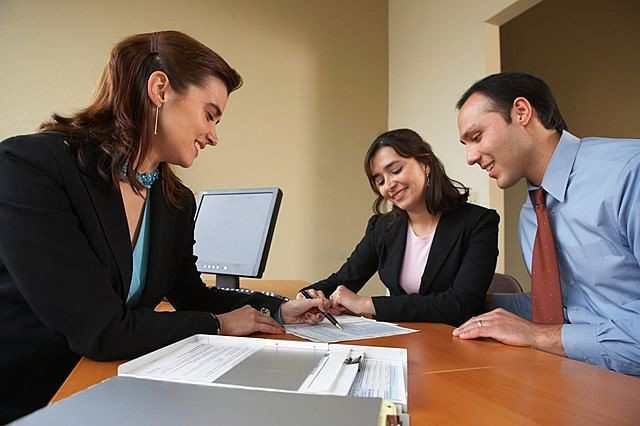 Dealing with real estate transactions can be tricky and complicated. This is why not just anyone can become a real estate professional. To be a successful real estate professional, you need to have the appropriate qualifications, a keen mind and the ability to communicate clearly with your clients. First and foremost though, you need to have the appropriate levels of knowledge in the domain.
Many people do not give online training courses the importance they merit. In the past, these courses only served to help people enhance their levels of knowledge on a subject. Today however, people use these courses to gain the accreditations necessary for boosting their careers. Therefore, many institutes have emerged that offer professional training to their clients. For example, these institutes offer customer service courses online. These courses help people working in call centres to address the issues faced by customers and resolving them completely. Similarly, to become a real estate professional, you need to have the relevant qualifications and certifications.
The real estate sector often relies on various legislative and regulatory requirements issued by the relevant authorities. Therefore, real estate professionals often need to keep themselves updated with the latest developments in these areas. However, to obtain a real estate licence, you will need to take courses that feature the following aspects:
The basic concepts of the real estate business
The various approaches to real estate strategy e.g. foreclosures etc.
The legal and financial regulations and requirements concerning real estate transactions
What Are the Career Opportunities that are available to you as a Real Estate Professional?
If you take any health services courses, you would be able to work in the healthcare industry. Similarly, once you have the appropriate certifications, you can work in the real estate sector. Many people believe that working as realtors or real estate agents are the only career options open to real estate professionals. However, this is not true. On acquiring the relevant qualifications, you could work in any of the following roles in the real estate sector.
Real Estate Agents: These individuals broker business transactions involving property or businesses. This could involve residential homes, commercial or industrial buildings, units, townhouses, retail centres or undeveloped land sites. In addition to residential properties, agents could also specialise in those kinds of real estate that generate incomes for investors. Real estate agents would typically:

Market a property for attracting buyers, in addition to showing them the property
Act as intermediaries between the owners and the buyers, thereby assisting the negotiation process
Aid in the letting of properties for owners and,
Provide a wide range of other services depending on the type of property they are managing
Salespersons: These individuals work on behalf of property sellers. They attend to clients and perform various support staff functions including:

Obtain listings of properties for sale
Appraising properties
Marketing the property and seeking out prospective buyers
Offering advice on the property or current market conditions
Negotiating sales and overseeing inspections and,
Liaising with legal representatives

Property Managers: These professionals lease and manage residential, industrial, commercial and retail property on behalf of the property owners. Their duties typically comprise:

Selecting tenants and collecting the rent
Arranging for repairs, if needed
Marketing the property
Negotiating leases and rent reviews and,
Advising on current market rental rates

Body Corporate Managers: These individuals carry out roles similar to those of property managers. However, they control and administer areas called common property in a subdivided property. This could typically comprise sections of property that is a part of a block of units or flats.
Business Brokers: These individuals specialise in selling particular types of businesses including hotels, caravan parks etc.
Buyer's Agents: These professionals act purely in the buyer's interests. They source suitable properties and represent the buyer throughout the buying process.
Stock and Station Agents: These people operate in rural areas. Their work involves selling, buying and exchanging property, agricultural products and livestock on behalf of their clients.
Property Evaluators (or Valuers): These individuals determine the value of properties based on the given market conditions. Their clients will usually comprise government departments, insurance companies, banks and property developers. Valuers will carry out property valuations for:

Calculating land tax, municipal rates etc. on property transfers and loans
Insurance compensations
Assessing mortgages, rent for leases and the value of assets

Auctioneers: These professionals conduct public sales. They often need to explain the contract as well as the features of the property.
The Australian Salesmasters Training Company – Your One-Stop Shop for Professional Training Courses
Whether you need cleaning training online or health services training, the Australian Salesmasters Training Company offers a myriad of training courses. We believe that training courses can enhance the effectiveness of your staff. When conducted by experienced professionals, these courses could boost your business. In addition, they could help your staff metamorphose into a skilled and cohesive unit.
At the Australian Salesmasters Training Company, we deliver innovative products and services to our clients. Our team of accredited facilitators do not merely deliver modules based on various skills and techniques. They also help your staff apply the learnings gained easily in their daily course of work. To learn more about the courses we offer, call us at 02 9700 9333.